3 Surefire Ways to Choose Right Intranet Software
Deciding on which Intranet software is best for your organization can be hard! An Intranet software might have all of the automation features your company needs for its business processes, but is out of your price range. You might even find a digital workplace service solution that is cost-effective and easy to set up but allows for very little customization or development. It can be tough discerning what is most important for your organization, and which networking software meets those communication requirements.
Any selection process should start with a comprehensive understanding of what your employees need. Are they looking for a better way to collaborate online? Are they just tired of logging into three different sites to manage their work schedules? Taking the time to assess these pain points will help you create a list of priorities to guide your decision.
However, once you gather your requirements, you're still left with a crowded market of Intranet solutions. Most software will fall into one of three categories, and narrowing your options down to one of these will streamline the decision-making process.
Three tips to choose the right Intranet software
1. The Suite of  Tools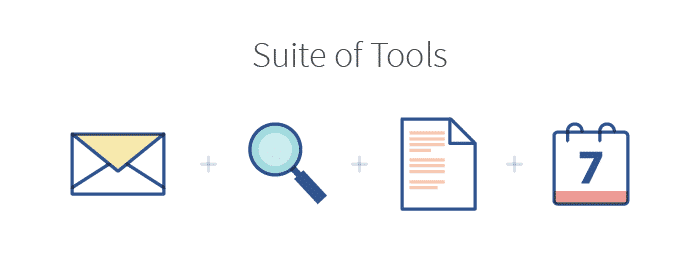 If you don't have an Intranet yet, your team is likely already working with their own preferred set of online tools and apps. This could include storing meeting notes on Evernote, scheduling with Doodle polls, sending big files with WeTransfer or using other productivity apps.
For companies that don't need a fleshed-out digital workplace solution, encouraging employees to use a standardized suite of tools is a great alternative to an Intranet. This approach only requires you to choose the tools you want employees to use and ensure everyone has the access they need.
Many online work tools are able to integrate with one another these days, and assembling a suite of tools that fit your team's needs is easier to achieve than managing an Intranet — provided your team doesn't use more than a dozen tools or doesn't have conflicting requirements. What if things are a little more complicated than that?
2. The Off-the-Shelf Solution
Off-the-shelf Intranet software is best for companies that have general needs. That is, their requirements are more complicated than a suite of integrated tools can handle, but not so complicated that they need custom development. In this scenario, an Intranet solution that comes with standard features out-of-the-box is a great fit.
Some of the typical features available in an off-the-shelf Intranet solution are:
Personalized homepages and Newsfeeds
Video player capabilities
Document libraries
Activity streams
Group pages
Employee profiles and blogs
Mobile-enabled
Off-the-shelf solutions are useful for companies that are short on time, budget or development resources. Launching an Intranet is one thing, but maintaining it is another. You can keep an off-the-shelf solution updated with fewer resources, though you run the risk of being more dependent on the vendor and whatever future decisions they make about different features.
Additionally, an off-the-shelf solution will have already made a lot of decisions for you, by requiring you to take certain aspects as-is, without any opportunity to customize. This can be a really good thing, especially if your company is new to user experience (UX) design. Imagine building your own internal version of Facebook from the ground up. Are you ready to make all of the UX decisions that go into designing a social platform? Using out-of-the-box tools for a social Intranet will ensure that you are rolling out a site with a strong user experience foundation, without too much investment. From there, you can always continue to tweak according to your needs.
3. The Custom Platform
The final category of digital workplace solutions is the custom platform. This is a web platform solution for large enterprises that have complex needs. Often, these are industry-specific, such as a retail bank that needs to incorporate finance-specific tools that its employees use daily. Custom platforms are always a commitment, but there are many things they do well that off-the-shelf solutions can't accomplish.
For instance, Intranets built on custom platforms are better equipped to handle complex business processes. A Diagnostic Lab built an integrated customer portal and Intranet around the idea of improving the inconvenient process of getting a medical test. In order to enable employees to track these tests, the Intranet required integrations that had never been done before, such as syncing databases with the USPS, tagging patient information through its diagnostic lab, and facilitating login and access to test results for its doctors. This is because they are one of the few (maybe the only) diagnostic labs to create a digital solution for this testing process, there isn't a ready-to-go Intranet software that meets their needs.
Custom platforms also have greater flexibility than other Intranet software options. Your Intranet should be an extension of your company culture, and a customizable platform allows you to align internal culture initiatives with the first thing your employees see on the homepage. Say your HR team wants to launch a fitness challenge where employees set daily step goals and walk-in teams. That could involve adding encouraging content on a discussion board just for this challenge, creating forums, scheduling tools for those who want to meet up to walk together, building a mobile app with a leader board so people can check on another's process and so on. The possibilities are numerous for companies that have the resources to invest in great experiences for their employees.
Increased flexibility is also critical for organizations that have changing requirements that need to be quickly accommodated. QAD, a provider of manufacturing ERP software, has to include new business requirements with every project they launch within their Intranet. Because the IT team has invested in its customized Intranet, it is able to quickly accommodate these new requirements every time they come up, and provide a unique work tool for the employees it supports.
Finally, if your company is planning to incorporate new technologies like AI or IoT into your Intranet, a custom platform will allow you to plan for how you'll bring those into your infrastructure. Integration with an off-the-shelf solution will depend on when the vendor decides it is worth the cost to enable these technologies. Building with customizable Intranet software will put that much more power in your company's hands.
To conclude…
Whether you're building an Intranet software for the first time or updating a long-standing site, it's best to start with what you know you need. Often, the true challenges for Intranets are in convincing your employees to actually use them. By focusing on the applications and tools you know they use on a daily basis, you can choose Intranet software that will address their core pain points, ensuring better employee engagement across the board.
If you are exploring better opportunities then Sparkwork Intranet could be your ultimate one-stop destination. Contact us today for a free demo.